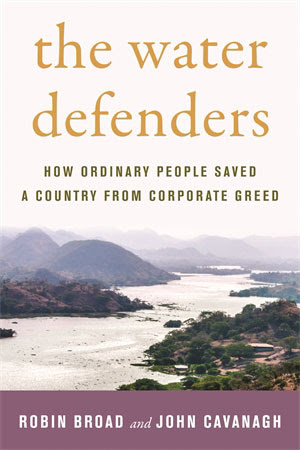 Water is life. Countless communities across the world, from Flint, Michigan to the Standing Rock Reservation to the Gualcarque River in Honduras, have used this phrase as a rallying cry against powerful corporations that value profits over the environment and the health of local communities. In 2002, a small group of citizens in El Salvador joined this global community of water defenders when representatives from multinational mining company Pac Rim appeared in their home province of Cabañas. This ignited a people's fight against corporate power that would last for over a decade. In The Water Defenders: How Ordinary People Saved A Country from Corporate Greed, Robin Broad and John Cavanagh tell the harrowing, inspiring saga of El Salvador's fight – and historic victory – to save their water, and their communities, from Big Gold.
Based on over a decade of research and their own role as international allies of the community groups in El Salvador, Robin Broad and John Cavanagh unspool this untold story, replete with corporate greed; a transnational lawsuit at a secretive World Bank tribunal in Washington, DC; violent threats; murders; and, surprisingly, victory. The husband-and-wife duo immerses the reader in the lives of the Salvadoran villagers, the journeys of the local activists who sought the truth about the effects of gold mining on the environment, and the behind-the-scenes maneuverings of the corporate mining executives. The Water Defenders demands that we examine our assumptions about progress and prosperity, while providing valuable lessons for other communities and allies fighting against destructive corporations in the United States and across the world.
---
Pre-order from
Beacon, PeguinRandomHouse (PRH), Amazon, Barnes and Noble, Bookshop.org, Indiebound, Powell's
ISBN: 978-080702902-2
Publication Date: 3/23/2021
Price: $27.95
Format: Cloth Will Ship On: March 2021 PRE-ORDER NOW
Other formats: Audio Book, Kindle
---
The Water Defenders has received excellent praise:
"It is rare, in the world of corporate power, to have a story where David beats Goliath. And rarer still to have one that reads like a fast-paced thriller. The brave activists whom Robin Broad and John Cavanagh write about stopped a giant mining company from ripping up the landscape to find gold. But in telling the story of how that happened, the authors have found a narrative gold of their own."
—Adam Hochschild, author of King Leopold's Ghost and Rebel Cinderella
"Bravo to the courageous Salvadorans—and their likely and unlikely allies—who prove that victories against overwhelming odds are possible. If they can defeat Big Gold, then surely we can have other big wins too. The water defenders of El Salvador and their international partners provide a powerful guidebook, poignantly retold by Broad and Cavanagh, of how the struggles for justice in the United States can link with allies abroad to build power and win."

—Opal Tometi, cofounder, Black Lives Matter
"This story of how everyday citizens, against implacable odds, managed to defeat a corporation that ravaged their community and polluted their water is one of the most inspiring I have read in many years. A blueprint for further global action and a lesson about how to enlist an array of unlikely allies in the struggle for a more luminous and clean future, it is also exceptionally moving, full of unforgettable characters, intrigue, and surprising twists and turns. An essential, enthralling book for our dire times."
—Ariel Dorfman, author of Death and the Maiden
"In these riveting pages, you will enter the lives of Vidalina and Miguel and follow the extraordinary steps they take over thirteen years to defend their land and rivers so that their children can live in dignity and avoid the dangerous trek north. Broad and Cavanagh bring the ups and downs of this epic fight into clear focus by carefully conveying the voices of the water defenders and their corporate antagonists. If you ever felt that your own contribution didn't matter and that the powerful always win, this captivating saga will help you envision who truly has power if we unleash our imaginations and act together."

—Ai-jen Poo, executive director of the National Domestic Workers Alliance, author of The Age of Dignity, and MacArthur awardee
"Broad and Cavanagh are masterful storytellers. The words, deeds, and stories of people in El Salvador come alive so vividly in these pages to reinforce what we in the Poor People's Campaign in the United States know well: the most powerful defenders of water, of the environment—of justice across the board—are poor people. Read this book to understand how determined people can build a moral movement and defeat policy violence."

—Rev. Dr. William Barber II, national co-chair of the Poor People's Campaign and author of The Third Reconstruction
"When the story of the courageous Salvadoran people came to my ears, I was full of pride and hope. Indigenous peoples everywhere are fighting for their water, and enlightened governments are valuing water over foreign corporate control. Our work in the Great Lakes, home to a fifth of the world's water, is a parallel struggle, and we are inspired by the people from the south—the Eagle and the Condor meet again. Water protectors are the heroes of all time, and this book honors those epic battles."
—Winona LaDuke, executive director, Honor the Earth, and author of To Be a Water Protector
"In this gripping tale full of drama, plot twists, and, most importantly, the powerful and savvy dedication of ordinary people and their communities, Robin Broad and John Cavanagh have given us a terrific play-by-play handbook of how David can, in fact, beat Goliath. They show how a small community in El Salvador, drawing in key national and international allies, won hands down against the slick suits of international mining companies and their repressive tactics—not only defeating them in court at the World Bank but producing a nationwide ban on all mining."
—Dana Frank, research professor and professor of history emerita at the University of California, Santa Cruz, and author of The Long Honduran Night
THE AUTHORS
Robin Broad and John Cavanagh are a husband and wife team who have been involved in the Salvadoran gold mining saga since 2009.
Robin Broad is an expert in international development and won a prestigious Guggenheim Fellowship for her work on this project, as well as two previous MacArthur fellowships. A professor at American University, she served as an international economist in the US Treasury Department, in the US Congress, and at the Carnegie Endowment for International Peace.
John Cavanagh is Director of the Washington-based Institute for Policy Studies, an organization that collaborates with the Poor People's Campaign and other dynamic social movements to turn ideas into action for peace, justice, and the environment. Previously, he worked with the United Nations to research corporate power. Broad and Cavanagh helped build the International Allies group that spearheaded the global fight against mining in El Salvador. They have co-authored several previous books together.