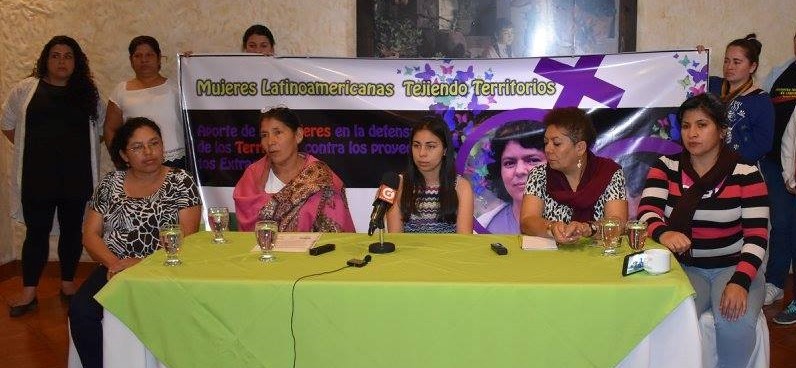 PRESS RELEASE
WOMEN OF GUATEMALA, HONDURAS AND EL SALVADOR DENOUNCE THE IMPACTS OF THE EXTRACTIVE INDUSTRIES
The women of the Peaceful Resistance La Puya and the Municipality of Mataquescuintla, in Guatemala; RENACAMIH and COPINH, Honduras, ADES Santa Marta in El Salvador, and the Latin American Network of Women Defenders of Social and Environmental Rights express our concerns about the effects of extractive industries in the region.
Today we have reached end of the Central American Tour: "Latin American Women Weaving Territories" that started on January 7 and has toured Guatemala, Honduras and El Salvador. As women participating in this effort, we have confirmed that in our countries the extractivist logic is seriously threatening our territories and populations.
The greed of corporations and the triumph of individualism over the common interest, threaten as never before the sustainability of the life of the world population. In our case, as peasant and indigenous women, we are exposed to even greater threats, even though we play an important role in the defense of the territory. In Latin America, 58 million women live in rural areas, yet only 30% of those women actually own land, while our governments are giving in concession large extensions of land to transnational corporations.
The context of violence, stigma and criminalization to which we, women who fight from our territories in Central America, are exposed, makes the defense of human rights not an easy task.
In Guatemala, residents of the La Puya have led a pacific resistance since 2012, conducting a permanent blockade at the doors of the Progreso VII Derivada mining project. Communities of the departments of Jalapa and Santa Rosa have permanent picket lines in the community of La Soledad Grande and in the municipality of Casillas against the El Escobal mining project, operated by the San Rafael mining company. In both instances communities have organized in 24-hour shifts to defend the provisional suspension of mining projects by judicial resolution, while they wait for the Constitutional Court to rule a definite cancellation of the projects.
In Honduras, in the last three years, precautionary measures have been issued on behalf of more than 700 women, whose crime has been to demand legitimate rights such as the right to land and to be able to defend the commons of their communities. The he murder of Berta Cáceres, who was opposing an economic model that threatens the sovereignty of the people is only a high profile of a common occurrence. To date this and other cases continue in impunity, no holding into account intellectual authors presumed to be people related to extractive companies.
El Salvador created history on March 29, 2017, becoming the first country in the world to ban surface and underground metals mining, a long struggle carried out for 12 years by various organized expressions of society that raised their voices against metallic mining. However, irreparable damage was done with the murder of Dora Sorto, who opposed the opening of the El Dorado mining project owned by Pacific Rim /Oceana Gold mining company. A proper investigation into her murder has not been conducted to this day.
In view of these and other violations:
We demand from our governments full respect in the exercise of territorial defense in the framework of national legislation and international agreements ratified by our States.
We demand an objective investigation with due process in the legal actions that we have initiated against companies that violate our rights.
We urge home governments of transnational corporations found to be violators of human rights to withdraw their investments from our countries.
We urge national and international human rights organizations to be vigilant against any actions that threatens our work as defenders.
We insist on the urgent need to strengthen bonds of sisterhood, solidarity and struggle.
San Salvador, 15th of January 2018
Tnraslated by: Giada Ferrucci